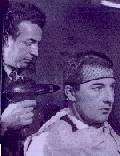 Sunday, March 10, 1996
THE MIAMI HERALD
THE '96 MIAMI CENTENNIAL
A HUNDRED YEARS OF INEPTITUDE:
MIAMI'S INSPIRING TRANSFORMATION FROM A HUMBLE VILLAGE DOMINATED BY WILDLIFE POOP TO A LARGE URBAN AREA FULL OF INSANE, HEAVILY ARMED PEOPLE AND MAMMOTH COCKROACHES
DAVE BARRY Herald Columnist
When we look around South Florida today, we see a modern, bustling metropolitan area that is home to more than three million people, an opera company, three symphony orchestras, five ballet companies, eight major museums and an estimated 168 trillion squirrel-sized tropical cockroaches.
But life was very different 100 years ago, when the city that we now call "Miami" was officially born. The year was 1896, and many exciting things were happening elsewhere in the place that we now call "the world":

-- In England, Marconi was establishing the first permanent wireless installation.

-- In New York, Austrian-American confectioner Leo Hirschfield was introducing a new kind of candy, called "Tootsie Rolls."

-- In Kansas, Bob Dole was winning his first term in Congress.

Here in Miami, however, life was pretty quiet. The area was still essentially a wilderness: The population was tiny; there were few permanent dwellings; and there actually were some available parking spaces at the place we now call "Dadeland."

But even then, this area had a history, a history that dated back another 4,000 years, to a time when the first native Americans arrived in South Florida after making their way across North America in search of a place where they could fish and hunt and eventually set up some kind of bingo operation. They arrived to find a natural paradise with no sign of previous human habitation except Vizcaya. They named their new home "Miami, " which means either "big water" or "I can't see these little flies that are biting me."

These early inhabitants settled along the Miami River, over which they built primitive, foot-powered drawbridges that are still in use today. They lived off the land, trapping wild game, catching fish, wrestling alligators and diving for lobsters when they were in season. For in those days, the area teemed with wildlife. There was wildlife poop everywhere. But the people were happy because their life was simple, and they had no concept of what we now call "lawns."

But things were not meant to remain the same forever. In 1513, change came with the arrival of the Spanish explorer that we now know as Juan Ponce de Leon (literally, "John Punched the Lion"). De Leon was searching for the mythical Fountain of Youth, of which it was said that if you took one drink, you would have eternal youth, or at least acne. He did not find the Fountain of Youth (which we now know is located in Davenport, Iowa) but eventually he did stumble upon Parrot Jungle, where he was pecked to death by hostile unicycle-riding cockatoos.

Despite this tragedy, De Leon was followed by a series of famous conquistadors such as Francisco Hernando Cortez Diego Balboa Luego; Vasco Guillermo Ricardo Caballero Fernando Orlando Bernardo Geraldo Julio Marinaro Allegro Capitano "Pepe" de Soto; Juan Valdez Cordoba Tenedor Guacamole de Burrito; and Lewis and Clark. For almost two centuries, these men tried to conquer South Florida, only to be thwarted time and again by the crafty natives, who baffled the invaders by erecting supposedly "helpful" signs, each marked with an obscure "sunburst" symbol. The conquistadors -- easily identified by the fact that they were riding rental horses -- would attempt to follow these signs, the result being that they wound up lost and starving near the place that we now call the "airport." Eventually they gave up and went home, although the historical Spanish influence upon Miami is still evident in the form of several streets named after Celia Cruz.

This was followed in 1754 by the French and Indian War, which continues to this day in the form of hostile French- Canadian forces invading South Florida every winter and leaving very small tips. After that came the War of the American Revolution, in which South Floridians, faced with the difficult moral dilemma of whether to remain loyal to the British crown, or join the colonists fighting for independence, chose to stay home and drink. After the war Florida found itself a colony of Spain, which it remained until 1821, when Spain sold it to the United States for $5 million, plus tickets to the Orange Bowl.

At this point the federal government engaged in the long, slow and difficult process of "settling" the region, in the sense of getting rid of everybody who was not what we now call a "white person." During this period workers also built the first Cape Florida Lighthouse, although as an aid to navigation it was not particularly effective because it collapsed only moments after being approved by a Dade County building inspector. Things remained pretty slow right through the Civil War, which Miami did not pay any attention to because the Dolphins weren't in it.

After the war, more settlers began arriving from the North, lured to sunny South Florida by the promise of skin cancer. One of these settlers was the wealthy widow whom we now call the "Mother of Miami, " Julia Tuttle Causeway. In 1895, following a disastrous freeze in Northern and Central Florida, Mrs. Causeway sent to oil millionaire and railroad magnate Henry Flagler, as a symbol of the tropical climate in Miami, a jar filled with humidity. Impressed, Flagler immediately came down and, in one of the most ambitious construction projects that had ever been attempted at that time, built Metrorail. This hugely successful transit system carried tens of thousands of passengers per year until the tragic hurricane of 1935 picked it up and left it stranded on top of giant concrete pillars, where to this day nobody can get to it.

Thus by 1896 -- exactly 100 years ago -- Miami had finally grown to the point where it was ready to legally incorporate as a city. The residents, after carefully considering the issue of which system of government they should have, decided to go with the Corrupt Pandering Shouting Bozos System, which has been in continuous operation ever since.

The new city immediately went on a frenetic growth spree, constructing a city hall, a post office, a telegraph office, a fire station, stores, warehouses, many new residences and several fine hotels; all of these buildings sank into the muck and disappeared without a trace. This is when the new city decided it would be a good idea to drain the Everglades, which we now realize is a priceless ecological treasure, but which at the time was seen as basically a Walt Disney World for mosquitoes. Miami also considered building roads, but decided that it would be cheaper to just put out a bunch of construction barricades, many of which can still be seen today.

Over the next several decades South Florida became a flourishing resort with an ever-growing population. Several new municipalities sprung up around Miami, including Coral Gables, a city founded on the idealistic philosophy that every human activity, including metabolism, should require a permit. Meanwhile, across Biscayne Bay, the city of Miami Beach was being founded by Jackie Gleason, who also invented "Art Deco, " an architectural style in which streamlined geometric forms, inspired by modern industrial design, are put on buildings with really old plumbing. South Florida was also emerging as a center of learning and culture with the foundation, in 1925, of the University of Miami Hurricanes football team (this was followed, in 1958, by the construction of actual classrooms, when Hurricane officials discovered that the NCAA required football players to have a grade-point average.

The "Roaring 20s" turned Miami into a boom town, as real- estate speculators flocked to the area in droves. Sometimes they even drove to the area in flocks; that is how eager they were to get here. And with good reason: land values were going right through the roof. The boom continued until the tragic Hurricane of 1926 destroyed the city. But the plucky residents came right back and rebuilt everything as good as new just in time for the tragic Hurricane of 1927. This was followed by the hurricanes of 1928, 1929, 1930, 1931, etc., all of which were tragic, but the plucky citizens of Miami kept right on rebuilding, just as we do today, no matter how many times Mother Nature tries to tell us that we are complete morons for living at sea level smack dab in the middle of the Hurricane Turnpike, because that is the type of pluck we Miamians possess. We are plucky to the point of brain damage. When the polar ice caps melt and the sea level rises and there are jellyfish floating through the Biltmore Hotel, we'll still be here, pluckily bailing out our living rooms as we watch Bob Soper give us the tide forecast .

But getting back to history: During World War II, Miami was used as a training area for thousands of U.S. troops, who prepared for the rigors of war by engaging in hand-to-hand combat with local residents seeking restaurant tables for the Early Bird Special.

The postwar years brought a major building boom to Miami, with the construction of a skyline and many major new roadways such as the Palmetto Expressway, Interstate 95, the Don Shula Expressway, the Larry Csonka Parkway, the Garo Yepremian Overpass and the Bryan Cox Digital Extension, as well as streets named after everybody, including convicted felons, who has ever contributed at least $50 to any member of the Dade County Commission. To the south, Miami was finally connected to Key West via the scenic Overseas Highway, which replaced the even more scenic, but tragically nonfunctional, Underseas Highway.

With all these new roads, there were soon hundreds of thousands of new motorists driving around, a fact that led certain misguided elements of the community to propose that South Florida should have some kind of traffic laws. Opponents, however, pointed out that once you let a government start enforcing traffic laws, the next thing you know it will require that motorists obtain driver's licenses and even -- yes -- insurance. So the proposal was rejected, thereby establishing the hallowed Miami tradition, still observed today, under which every motorist drives according to the laws of his or her individual country or planet of origin.

Tourism also flourished in the postwar years, as millions of visitors fled the Northern winters to enjoy South Florida's beaches, as well as its endless parade of entertaining attractions, including the Seaquarium, the Planetarium, the zoo, Parrot Jungle, Orchid Jungle, Monkey Jungle, the Seaquarium, the zoo, Parrot Jungle, the zoo, Orchid Jungle and the Seaquarium, to name just a few.

But the crucial postwar development was the arrival in South Florida of a new element -- an element that was to transform Miami from an essentially Southern city into the vibrant, multicultural, international center that it is today. That element, of course, was Arthur Godfrey. Not long after that began the arrival of what would eventually be a flood of nearly 200,000 refugees who were fleeing from Fidel Castro's Cuba, bringing with them a tremendous Latin vitality, caused in part by the fact that they routinely ingested coffee strong enough to strip furniture. These new arrivals quickly established themselves as major players in the political arena, which is why today Miami is the only U.S. city that has its own locally produced foreign policy, which is implemented by its own locally produced armies, air forces and navies.

The 1980s and '90s saw the continued emergence of Miami as a truly international city. Its reputation for glitz and glamour was boosted by the hugely popular Miami Vice, a compelling TV series about two detectives who wear designer clothing and encounter a succession of eccentric and offbeat South Florida characters, then kill them. Miami Beach's South Beach area (known to locals as "TriBeCa") became a world-renowned "hot scene, " with its exclusive nightclubs that don't allow anybody in below the celebrity rank of Bee Gee, and its dozens of high- fashion supermodels walking around and making everybody they pass, including women, feel like Danny DeVito. This is not to say that Miami is perfect. As with any large urban area full of insane, heavily armed people, Miami has its problems: drugs, crime, tourist attacks, racial discord, urban unrest, Madonna. But today, as the city observes its centennial, it truly has much to celebrate. The evolution of Greater Miami continues apace, thanks to a number of major projects, both public and private:

-- Bayfront Park has been transformed, after years of planning and expenditure, from a downtown waterfront property occupied by vagrants into a downtown waterfront property occupied by vagrants and a fountain that never seems to be working.

-- Downtown Miami now has a computerized, totally automated, state-of-the art "People Mover, " which provides convenient, efficient transportation for a total of 17 people, who have been trapped inside the cars since 1994.

-- Downtown Miami is also the site of the Miami Arena, which was completed by the city in 1988 at a cost to taxpayers of $52.5 million; thanks to the foresight and planning that went into this facility, it is expected to continue to meet Miami's arena needs until well into next week.

-- The confused and congested traffic situation has been vastly improved by the completion of the Golden Glades flyover, which cost $40 million and took 2 1/2 years to build, and which now makes it possible for traffic jams to occur 200 feet in the air.

-- Billionaire visionary entrepreneur H. Wayne Huizenga has promised to build a gigantic, world-class . . . Whoops. Never mind.

And there is much, much more to come as Miami prepares to enter its second century. Plans are well under way to build a major downtown Cultural Center, which should go a long way toward satisfying the massive pent-up demand for culture in Miami, which has on occasion resulted in angry, culture- obsessed mobs breaking down doors to get into sold-out operas. Miami International Airport is nearing completion of a major construction project, begun in 1952, which will ultimately double the number of available parking spaces, to four.

Yes, it is truly an exciting time here in what we call "The Magic City" if we write travel brochures. All of us who live and work in Miami have reason to be proud of what our city has been able to accomplish, and to look forward with eager anticipation to the future. We cannot, of course, know what lies ahead for our city; we cannot predict what life will be like for the people who live here 100 years from now. We can only hope that they will be good caretakers of our legacy; that they will learn from our mistakes; and above all that they will have the wisdom, the courage and -- yes -- the humanity, to drop a nuclear bomb on the Golden Glades interchange.
© 1996 Dave Barry. The information you receive on-line from
this site is protected by the copyright laws of the United States.
The copyright laws prohibit any copying, redistributing, retransmitting,
or repurposing of any copyright-protected material.
NOTE: We're happy to have you link to this page on your web site, or send the link to your friends in email. But please don't copy the columns and put them on your site, or send them out in email. Thanks.