WHO HAS ENDORSED DAVE BARRY?
The following leading Americans have endorsed Dave Barry's candidacy:
Robert Goulet, famous star entertainer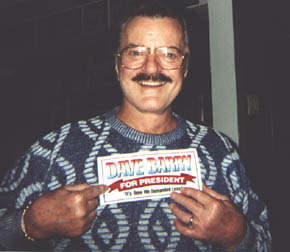 Heloise, author of Hints from Heloise and probably the world's leading expert on stain removal
Jeff Simon, drummer for the Delaware Destroyers
The following leading Americans have not yet formally endorsed Dave Barry, but they did pose for photographs holding "Dave Barry for President" bumper stickers: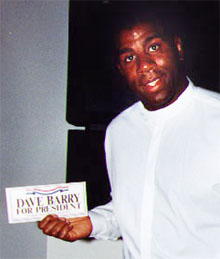 Magic Johnson, famous athlete, personality and tall person.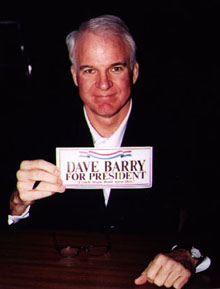 Steve Martin, famous actor, author, and person with white hair.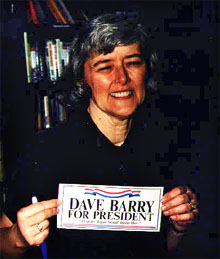 Pat Schroeder, famous former woman congressperson from some place such as Montana or Kansas.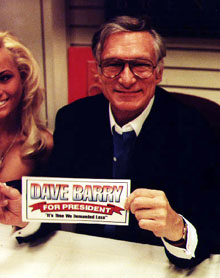 Hugh Hefner, famous philosopher and owner of the world's largest privately held supply of Viagra.

Literary God Kurt Vonnegut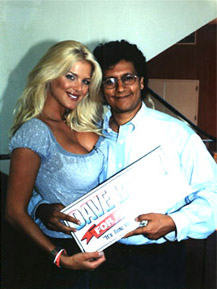 Field Coordinator Ted Habte-Gabr practices his polling technique on Miss Sweden 1993, Victoria Silvstedt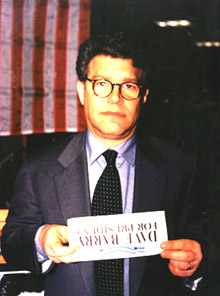 Top Political Analyst Al Franken

Love God Barry White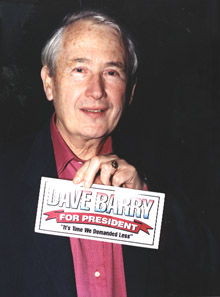 Top Irish Person Frank McCourt
ALSO:
Michael Isikoff
Tom Hayden
Paul Conrad
Steve Allen
Christopher Hitchens
Charleston Heston
Deepak Chopra
George Stephanopoulos
John Kasich
Jesse "The Body" Ventura
Donny Osmond
Natalia Sokolova
Sable
Ben Affleck
Gwyneth Paltrow
Bo Derek
Kim Campbell
Gene Hackman
Moustaffa
Mayor Richard Riordan
Jules Feiffer
John Cleese
Dwight Yoakum
E.L. Doctorow
Kinky Friedman
Carl Hiaasen
A. Lincoln
Larry King
Malachy McCourt
Dom DeLuise
Arianna Huffington
George Plimpton
Wink Martindale
Cybill Shepherd
David Broder
Carmen Electra
Lauren Hutton
Bill Maher

(Special thanks to Ted Habte-Gabr, who got these leading Americans to pose for these photographs. Ted holds the title of Field Coordinator for the Dave Barry for President campaign, at least until he is arrested.)